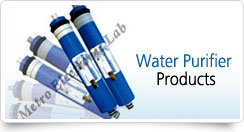 Are You Looking For Quality Water Solution? Avail The Best Water Dispensers, RO Plant And Many More
About Us
Water is an essential natural resource without which none of us can survive more than a couple of days. Although huge percent of our planet is occupied by the water bodies, yet people only get a small amount of it for usage. This happens because of its poor quality as water that we source from water bodies is contaminated. Keeping this aspect into consideration, we, METRO ELECTRONIC LAB offer water treatment solutions for the removal of contaminants such as bacteria, lead, sand particles, etc. from the water. As a Manufacturer, Wholesaler/Distributor, Trader and Supplier, we serve our clients with an ample array of water solutions including Packaged Drinking Water Plant, Industrial Water Filters, Reverse Osmosis Plant, RO Water Purifiers and its allied components. Every business is leaded by a diligent leader and the backbone of our company is our Mentor, Mr. Chander Verma, who with the help of his years of experience and in-depth knowledge has led us to this immense success. With all kind of advance and updated equipment and our highly trained staff members, we produce quality products such as Spare Parts of RO Plants.

Our Mission

The mission of our company is to render people with water treatment solutions for maximizing the effectiveness of the water systems with the help of our distinct combination of product-line and excellent expertise. Our main aim is to build long lasting relationships with our clients. Bulletined below are some other objectives of our company:

For rendering superior customer service and offering water treatment solutions including RO Components of high grade quality.
Look forward to become a business that strives over referrals by earning trust of clientele.
Synchronizing with the up-to-the-minute techniques and technologies emerging in the market.
To spread awareness among people for Eco-friendly solutions.